As we all know, organic fertilizer and compound fertilizer are suitable for all kinds of crop farms. There are more and more organic fertilizer plants and compound fertilizer factories. But people found that single fertilizers may not be good enough, and the fertilizers made up of many elements are better. During constantly tests, people produced bulk blending fertilizer. Then what is bulk blending fertilizer? How can you get a high performance bulk blending fertilizer production line? And what machines are suitable for making this kind of fertilizer? As a professional fertilizer equipment manufacturer, ShunXin will give you the answer.
Why more and more people choose to make bulk blending fertilizer?
Bulk blending fertilizer is also known as BB fertilizer. It's the combination of several single compound fertilizers. The largest characteristic is that you can make fertilizer blending from soil sampling. According to the soil condition, you can adjust the fertilizer formula to make high quality fertilizers. That's also the reason why more and more people choose bulk blending fertilizer for their crops. So setting up a bulk blending fertilizer production line is a very good way to get economical profits.
Top3 bulk blending fertilizer production lines for sale
As an experienced fertilizer machine supplier, there are three hot-sale bulk blending fertilizer production lines in ShunXin: NPK fertilizer blending factory, large capacity powdery fertilizer blending line and granular bulk blending fertilizer making plant. Next, you will get a better understanding of them.
1. 20-20-20 NPK compound fertilizer blending factory
NPK fertilizer is the combination of nitrogen fertilizer, phosphate fertilizer and potash fertilizer. Even though it's one of the most widely used fertilizers for garden, crops, and plants, making them into bulk blending fertilizer, the proportion of each fertilizer element is very important. In ShunXin, we can provide you professional npk BB fertilizer making plan.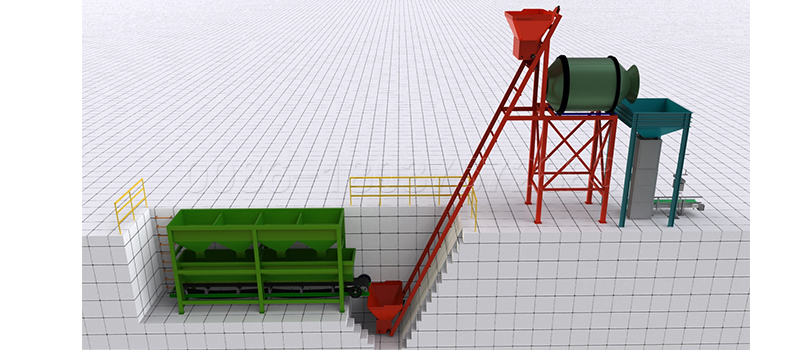 Such as our hot-sale 20-20-20 npk fertilizer processing line(each of the proportion of nitrogen, phosphorus and potassium in this fertilizer is 20%), there is a high performance 3-bin static batching machine. It can achieve precise batching of each element when making npk blending fertilizers. When the machine working, you just need to set the proportional value in advance. Then choosing a high efficient fertilizer mixing machine to mix them evenly.
If you don't know how to adjust proportions according to different soil conditions, our professional team can give you helpful suggestions.
2. 500T/D dry powder blending fertilizer plant
In the past, people used to mix different kinds of powdery single fertilizers as bulk blending fertilizer, and the raw materials don't have excellent fertility. Nowadays, they almost become auxiliary materials in organic fertilizer producing process. And most people choose to make dry powder compound blending fertilizer.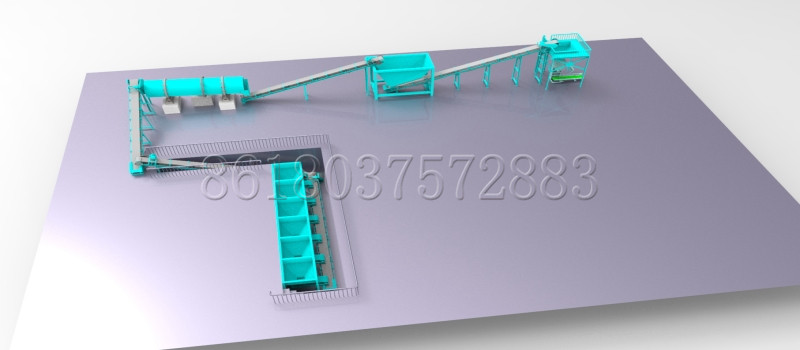 To help you get powder BB fertilizer economically, we designed high performance powder compound bulk blending fertilizer production line. Its capacity can reach to 500 tons per day, and the energy consumption is very low. With our reasonable layout, it only covers a very small area.
Considering the powdery fertilizer has light weight and easy to fly away, we recommend you a dust collecter to reduce waste and air pollution. To prevent the final fertilizers from caking, you can also choose a fertilizer drying machine to reduce the powdery fertilizer moisture content before batching. Most importantly, the batching of powdery compound fertilizer needs higher precision, so we use dynamic automatic batching system for this plant. With accurate computerized batching system, there is almost no error when batching.
3. 20000T/Y granulated fertilizer blending project
Granular bulk blending fertilizer production line is the most hot-sale BB fertilizer producing plan in ShunXin. You just need to by three machines for it: batching machine, BB fertilizer mixing machine and a packing machine. Simply equipment doesn't cost you much labor and energy. And the huge capacity of 20000 tons/year also will bring you wonderful profits.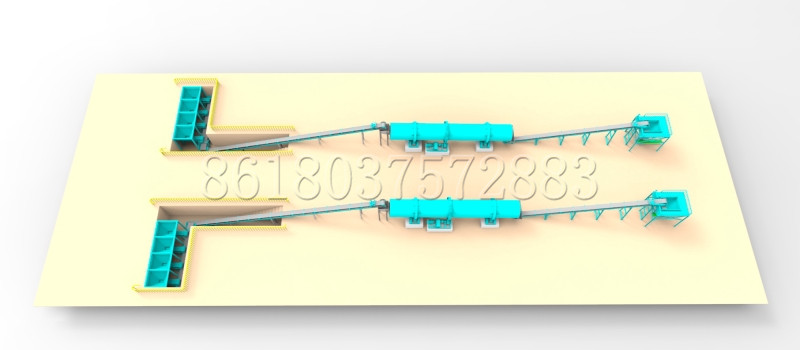 If you already have a complete compound fertilizer making line, you can equip these machines with other equipment directly, which not only can save you a lot of investment, but also is a good way to maximize the proceeds from selling fertilizers.
If you have different plan of making granular blending fertilizer or other requirements of the machines, welcome to contact us and we will provide you the most considerate service and professional guidance.
What are the machines used for a fertilizer blending plant?
Simply, the process of bulk blending fertilizer production line is evenly mixing of different fertilizer products. So if you want to set up a fertilizer blending factory, the investment of blending fertilizer machines is very small. Then what machines are needed? The following are some details.
BB fertilizer mixer–evenly mixing of different fertilizer
After batching is mixing. Evenly mixing can ensure the uniform distribution of fertilizer elements in the final blending fertilizer products. According to the features of bulk blending fertilizer, we designed BB fertilizer mixing machine. Overcoming the mixtures chromatography and distributary caused by different proportion of raw materials and particle size, our BB fertilizer mixer has more stable efficiency and longer working life.
Automatic packing scale–quantitative packaging
Packing of blending fertilizers is the last step of a bulk blending fertilizer production line. In ShunXin, we have single/double bucket automatic packing scale. It can be used for quantitative packaging of the final fertilizer products. With integrated design, this kind of machine has high efficiency but consumes lower energy. What's more, its quantitative precision is 2‰, which makes it hot-sale in many kinds of fertilizer making plants.
How about the cost of a complete bulk blending fertilizer production line?
From the above information, you may know better about making bulk blending fertilizer. So how to get efficient machines with low cost? How much is needed for setting up a fertilizer blending plan?
As an experienced fertilizer equipment manufacturer in China, SX has a complete commercial system. We have professional equipment designer, service team, technicians and e-commerce operation team. We also have stable cooperation relationships with many excellent accessory suppliers such as SKF, Simens, HRB, etc. That makes our fertilizer machines have higher efficiency and longer working life. Choosing us, you will get the most economical fertilizer machines, totally free sales service, technical guidance, and reasonable blending fertilizer layout.