In recent years, more and more chicken farm owners want to manage the chicken litter into organic fertilizers. As chicken litter has high organic nutritions and is the great fertilizer to promote plant growth. But how to make high quality chicken manure pellets and what machines can you choose? As a professional fertilizer equipment manufacturer, ShunXin will provide you the following solutions in chicken litter pelleting.
What machine can be used for chicken manure granulating in ShunXin?
New type chicken manure granulator
New type chicken manure granulator is also called stirring tooth granulator. As its name suggested, it granulates chicken waste by the high speed rotating mechanical stirring force. The raw material mixed evenly, gradually granulated, spheroidized and densified with the rotating of stirring teeth. By adjusting the speed of the rotor, the diameter of chicken manure pellets can be 3-5mm. Inside the drum, we use special rubber lining or acid-proof stainless steel lining to prevent fertilizer from sticking to the inner wall.
Rotary drum chicken feces granulator
Be known as two-in-one granulating machine, this kind of granulator is the combination of rotary drum granulator and stirring tooth granulator. It also uses both the two granulation ways: the drum and inner stirring teeth rotating continuously at the same time, chicken waste raw material rolling in the drum with a high speed and turning into pellets more quickly than other chicken dung granulating machine.
Compared with new type chicken manure granulator, this type of granulator has higher granulating rate, operate more smoothly, energy consumption lower, and have lager capacity, the finished pellets are more uniform in size and their structure is more compact.
Disk granulator for pelletize chicken litter
Disk granulator is an open granulation machine. Unlike drum granulators make granules inside the drum, the disc granulator makes granules in an open pan. So you can observe the chicken litter granulation process intuitively and if something happens to the granulation, such as the chicken manure is too dry, you can add proper amount of water or adhesive to continue granulating. And for your convenience, we equip the disk granulator with spray system. When the materials are too dry, the spray syatem can smartly add water to the raw materials, that will greatly improve the granulating efficiency.
This machine is very suitable for small scale chicken waste granulation. Because of extruding granulation, it requires the moisture of chicken under 10%, and the most suitable value is 5%. So the dewatering process before granulation is very important. But after granulating, you needn't to dry the chicken dung pellets, that will save you the cost of drying machine. Using this granulator can greatly simplify your chicken manure fertilizer production process. And the pellets are columnar with optional diameter in the range of 4-8mm.
Except for granulating chicken manure pellets, what else can these granulators be used for?
The above chicken manure granulators can make your chicken waste into your ideal granules efficiently. Otherwise, these granulators have strong adaptability to different raw materials. They can used for granulating organic fertilizer, such as pig manure, cow dung, horse waste, all kinds of poultry manure and livestock waste. Furthermore, they can meet your need of compound fertilizer granulating. For example, the granulation of limestone, sulphur, npk fertilizer, and so on. Whether you want to make organic fertilizer or compound fertilizer, you can find your ideal granulator from them.
How to make chicken manure pellets?
Fresh chicken manure contains about 75% water. So you need to dry the chicken dung into suitable moisture for different granulation method. After then, to kill pathogens in chicken manure, it's very necessary to compost the chicken manure. This step is very important for granulating chicken manure. It not only can make chicken manure granulation process more efficient, but also can improve the purity of chicken dung fertilizer, even improve the nutrient content to 100%.
After composting, according to the moisture and the quantity of chicken manure, you can choose the suitable granulator for turning them into pellets. And if you choose wet granulation equipment, don't forget drying the final pellets. If you choose dry granulation equipment, you just need to dry the raw chicken manure before producing.
Complete solutions for chicken manure granulation in ShunXin.
Shunxin Machinery is a professional fertilizer production machine manufacturer. To meet customer requirements, we provide turnkey solutions in chicken manure granulation. Whether you have a small chicken farm or large chicken manure organic fertilizer production factory, you will get reasonable suggestions. With our solutions, you will get great profits.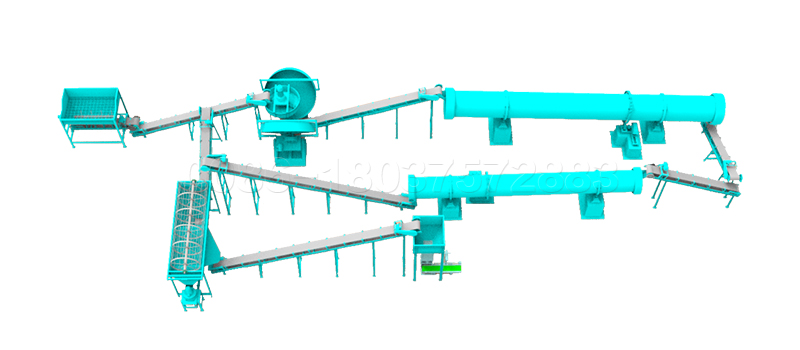 How to make chicken manure pellets at small chicken farm?
For small scale chicken farm owners, ShunXin can provide you our professional solutions to help you make chicken manure pellets at low cost. In this solution, our engineer team will provide you different types of manure granulators meeting your small capacity requirement: new type granulator, disc granulator and flat die granulator. you can connect them with other machines to form small scale chicken manure fertilizer making line. As a small chicken farm owner, you can get higher profits from your chicken manure with this solution. If you want to make chicken manure pellets more efficiently, equipped with packing machine can make the storage and transportation more easily.
Solution for large chicken manure fertilizer production factory.
Small scale chicken farm owners can compost the chicken manure by themselves before granulating. But as for large scale chicken manure granulation, composting the manure by nature will cost a lot of time and manpower. That will seriously affect your granulation efficiency. To solve this problem, you can equip your chicken manure granulation plan with our large scale composting machine. Our composting equipment can shorten a lot of ferment time, fasten the granulation process. That will help you produce fertilizer more efficiently and bring you more economic profits.