Double roller extrusion granulator is a kind of extrusion granulator equipment. It turns dry powder raw materials into pellets with specific shapes by the extruding of two rollers. It's a newly popular granulating machine in compound fertilizer making plants.
So how does the granulator work? How to get a suitable extrusion granulator? Or how to get high quality fertilizer granules by extruding granulator? Detailed information are as follows.
What does ShunXin double roller granulator can do for you?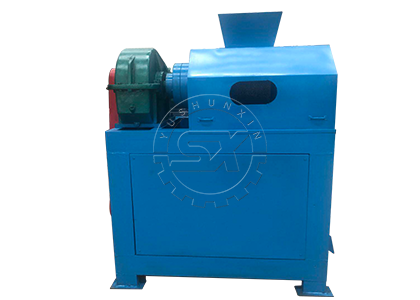 As an experienced fertilizer granulator manufacturer, the double roller extrusion granulation equipment produced by SX Machinery is especially excellent among our peers. The diameter of fertilizer granules produced by ShunXin roller granulator can be 3-10 mm. To meet customers' different requirements, the ball socket on the roller sheet can also be specific with different shapes. What's more, we use high quality materials to form granulator parts to make sure the machine has a long working life.
Where can you use the double roller granulator?
At first, we know that the double roller granulator adopts dry granulation method. By extruding the powder raw materials, fertilizer pellets are manufactured with different size and shape. That is why it can be used for granulating different raw materials. Then because of its small and exquisite structure, it is suitable for small scale granulating.
For these two reason, it is easy to know that the double roller extrusion granulator is suitable for different kinds of small scale fertilizer producing places. Such as organic fertilizer plant, npk granulation line, limestone fertilizer making plant and small scale compound fertilizer plant.
Compared to drum granulators, why most people choose the two roller extrusion machine?
Drum granulator is suitable for large scale fertilizer granulating. Its maximum capacity can even up to 30 t/h. Therefore, it's widely used in large fertilizer factories. Unlike drum granulators, the two roller extrusion machine is much smaller and more exquisite. So it takes up less space and consumes less energy. We design the roller expressing granulator with advanced technology, compact structure, and low consumption of energy. When you want to make granules with it, you just need to pour the dry powder into the feed port directly. And then the rollers extrude powder into specific shapes, it's really easy to operate. The final fertilizer pellets always have good hardness.
It's very obvious that double roller granulator's capacity is much smaller than drum granulators. So it can be formed a small fertilizer production line by combining with other small scale equipment such as chain crusher and small scale fertilizer packing machine. If you want to buy a granulator without too much money, or set up a fertilizer production plant without large venue, the double roller extrusion will be your best choice.
Top 4 reasons that customers choose the double roller granulator
1. Granulation by extrusion-85% high granulation rate
Compared with other granulators, double roller granulator making granules by the extruding of two rollers which. The dry powder can be rolled and formed into balls at one time. This special way can save a lot of manpower and energy. And the granulating rate can reach over 85% with few return materials.
2. Dry granulation method-simple procedure
ShunXin double roller granulator is a typical dry granulation equipment. That is, the finished granulated balls have very low moisture content, they needn't to dry. So the granulation process eliminates the drying of extruded granules. Otherwise, the double roller extrusion granulator can work at the room temperate, the raw materials needn't to be heated up, of course the produced balls needn't to be cooled. That means you don't need to buy a drying machine or cooling machine for your fertilizer production line. And you can save money to focus more on other steps.
3. A lot of applicable raw materials
Because of the special method technology, the double rollers pressing granulator is suitable for processing a variety of fertilizer raw materials. There are about 30 kinds of materials can be granulated by ShunXin roller granulator. Such as mineral dry powder, limestone, urea, materials of producing compound fertilizer, and so on. This equipment is really economical.
4. Many choices of ball shapes
The shape and size of ball socket on the roller sheet can be customized by your requirements. And you have a wide range of options: pillow shape, semicircle shape, stick shape, pill shape, walnut shape, flat ball shape and square bar shape. If you want to produce other shapes besides the above choices, you can also contact us to ask for what you need.
Technical performance of double roller pressing granulator
We adopt advanced dry granulation technology, the dry powder is extruded at one time. The hardness of granulated pellets produced by ShunXin double roller granulator is 15-20N. Fertilizer balls with this hardness are not easy to break and can keep nice look well. According to costumers' different requirements of granules, they can be 3-10mm in diameter. With dry granulation method and simple granulating procedure, they can be packed into bags directly without drying.
Moreover, we use high hardness stainless steel roller sheets for this kind of granulator. Compared to th etraditional carbon steel rollers, our double roller granulator has higher efficiency and more stable working performance. Its working life is also two times longer than the traditional ones.
Large Scale Fertilizer Line with Roller Extrusion Granulation for Sale
As mentioned above, the extrision granulator has very small volume. For large scale compound fertilizer making factory, such as 10t/h npk fertilizer making plant, 6 roller extrision granulating machines will be very efficient. They can work at the same time in the whole production line. With a disc type mixing machine, the feeding of fertilizer materials can be full automatic. In this way you can make large scale fertilizer granules easily. More importantly, you don't need to worry about the layout of this kind of fertilizer plant. We will make you free efficient layout for free.
If you want to know the price, what should you provide us?
We have 3 main models of this kind of granulator: 1t/h, 1.5t/h, and 2t/h. You can choose the one which is suitable for your fertilizer production need. Of course their prices are quite different. You can tell us your need of capacity, and we will tell you its price.
| Model | Power(kw) | Granule Diameter(mm) | Roller Sheet Size(mm) | Dimensions(mm) |
| --- | --- | --- | --- | --- |
| SXDG-1T | 15 | 3-10 | 150*220 | 1450*800*1450 |
| SXDG-1.5T | 18.5 | 3-10 | 150*300 | 1450*850*1500 |
| SXDG-2T | 22 | 3-10 | 185*300 | 1630*850*1650 |
If you have special need of roller sheet, such as its size, the shape of ball socket, the equipment is also can be customized. And the price is different according to your requirements.
In a word, please provide us your demands about your ideal capacity, special requirements about the double roller extrusion granulator or the power you want, we will give you a reasonable and factory price.