Cow manure is always a kind of efficient fertilizer materials for crops. In fact, it's better to compost the cow dung before using them to plants. Otherwise, the heat released during fermentation may damage the plant and introduce bacteria into the soil. To make cow dungs get better composting, there are some useful cow manure composting methods and equipment. With them, you can compost cow manure much easier.
Methods of making compost from cow manure
How to turn fresh cow manure to composted cow manure?
Fresh cow manure always has high moisture. So it's necessary to dewater it before composting. You can use solid-liquid separator machine to reduce its moisture to about 30%. Then you can put the manures into composting groove and choose groove working type compost turners to help them get better composting.
How to compost dry cow manure?
As for dry cow manure, the best way is to make them into windrows. You can mix them with some auxiliary materials, such as powder straw, sawdust and plant ash. Then pile them up into long windrows. With windrow compost turner, they can get well composting and become new windrows.
How to make compost in large scale with cow dung?
1. Using large size cow manure composting turner
At present, the most commonly used large scale composting equipment has two types: wheel type compost turner and chain plate compost turner. They are suitable for all kinds of large capacity organic fertilizer composting plants. In addition, using these two machines, you need to build a ferment groove in advance.
As for large wheel type compost turner, it composts cow manures by the movement of the composting wheel back and forth. Its turning width can be 1.5-3m, and the largest width can be 30m. Wheel type cow dung compost turner in ShunXin uses the best bearing pedestal in the world, which ensures its excellent performance and low energy consuming.
Chain plate turning machine composts cow dungs by the cycling of the plate which has many composting teeth on it. Its walking system adopts frequency conversion speed regulation, which brings it good adaptability to different materials, high efficiency and the characteristic of deep groove operation. You can choose transfer vehicles to realize the use of multi-groove equipment. To enlarge the capacity, you just need to add the fermentation groove.
2. Cattle dung composting in large scale vessel reactor
The most common large scale vessel reactor for composting cattle dung is fermentation pot. It adopts sealed composting way to help cow manures composting. It can complete harmless treatment process in 10 hours. Compared to 14-day composting time consuming, the time consuming of this machine can be shortened to 7 days. And if you have the requirement of capacity, we can also make the specific machine for you.
Small scale cow dung compost preparation by machine
These three compost turners have has have compact structure and high flexibility when working. They can work perfectly no matter you want to use them indoors or outdoors. High quality composting teeth bring them high working performance. They can not only improve the purity of cow manures, but also crush the large block materials. But there are two things need to be focused: the working place must be flat ground and it's better to make fertilizer materials into windrow with same width. These will make your composting more efficiently.
2. Small capacity groove composting for cattle manure
Except for small windrow compost turners, there is another composting equipment used for cattle waste: small size groove composting machine. As its name suggested, it composts fertilizer materials in the ferment composting groove. Compared to wheel type compost turner, its turning width is about 20 meters, and the turning depth is between 0.8-1.8m. To give you more choices, we have double-groove type and half-groove type of this machine.
More importantly, we use the fully automated electric control cabinet for the groove type composting machine, which means you don't have to control is by manpower.
What's the cost of cow manure composting?
If you want to build a cow dung composting plant, the cost may be high. At first, you need suitable place and various machines, such as the solid-liquid separator machine, appropriate compost turner according to your need, the packing machine for final composted cow dung fertilizer. The suitable layout is also necessary to make the plant working efficiently. For helping you set up a perfect cow manure composting plant, we can provide free layout for you, and the equipment is also with acceptable price.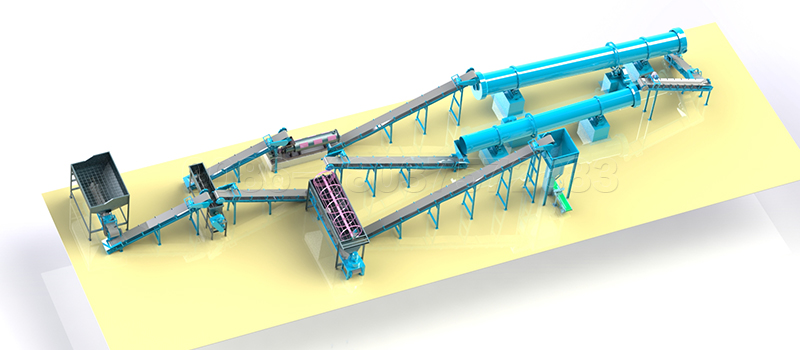 If you already have your own cow manure composting fertilizer factory, and you just want a single machine for composting cattle dung, the cost will be lower. You just need to tell us your capacity of your fertilizer manufacturing plant, and your ideal turning machine. We will recommend you the most economical and efficient equipment.
Choosing us, you will get the best machine, the factory price and the most perfect service. If you are interested, just contact us for free quote.