Rotary drum drying machine is widely used in organic fertilizer making plants. Its main function is drying different kinds of fertilizer raw materials or final pellets into appropriate moisture content. The rotating drum dryer equipment is a kind of necessary equipment for all kind of organic fertilizer and compound fertilizer producing factories. Using it, the post management of fertilizer products can be much easier and efficient.
How does the fertilizer material be dried by our rotating dryer equipment?
Our rotary drum drying machine consists of a rotary drum, lifting plates, transmission, support device and sealing ring.
The dryer mainly is a slightly sloping drum. The fertilizer materials are added from the higher end, the hot flue gas and the material flow into the drum at the same time.
With the rotating of the drum, the organic fertilizer materials will move to the lower end of the rotary drum.
There are many lifting plates on the inner wall of the drum, which can pick up and sprinkle the fertilizer materials down, so that the contact area between the materials and the airflow is enlarged to improve the drying efficiency.
At last, the dried product flows from the bottom outlet to the next procedure.
Highlights of our rotating drum drying equipment.
1. High degree of mechanization brings it larger working capacity. Meanwhile, it consumes lower fuel and when working, it doesn't need people to operate. That can greatly reduce your cost on hiring operators.
2. Our rotary drum drying machine has good characteristics of high temperature resistance, that ensures the high temperature hot air can dry fertilizer materials quickly. And this kind of drying machine is much more efficient than the traditional dryers.
3. The distribution and angle design of the lifting plates are very reasonable, making the performance of the machine more reliable and the operation more stable. Therefore, it greatly improve the heat energy utilization rate and reduce the frequency of material cleaning.
4. It has excellent application to different fertilizer materials such as poultry manure, livestock, mushrooms, straw powder, saw dust and so on. No matter which kind of materials, our rotating drying machine can work well for you.
5. While the fertilizer materials are drying, our drying machine can also sterilize and deodorize them. That not only makes fertilizers with suitable moisture, but also makes them have better quality.
How does the rotary drum drying machine work for wet granulation method?
In wet granulation method fertilizer making line, the drying machine is very helpful to dry fertilizer granules. As we know, the raw materials granulated by wet granulation equipment always have high moisture. Before granulating, the materials always need to be dehydrated with about 30% moisture content by the solid-liquid separator machine. But this value is not suitable to the final granules. To bring granules more compact structure and improve their hardness, the drying machine is needed. After drying, it's much easier to transport and store the fertilizer granules.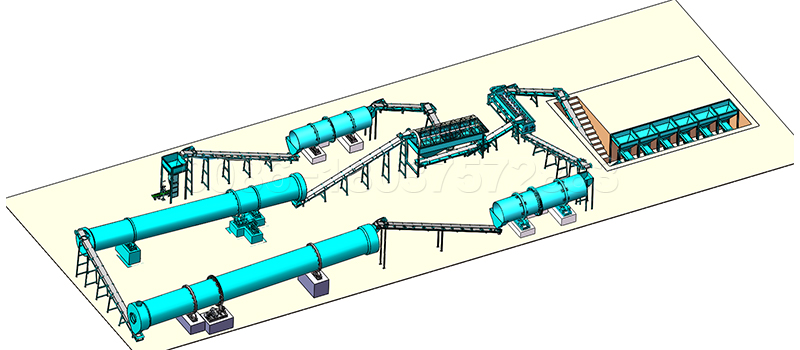 Top sale fertilizer dryers in ShunXin
For different scale and different type fertilizer producing factories, we have different drying machines. Your fertilizer plant will be more efficient by using them.
Small scale chicken manure drying machine(1-5t/h)
Fresh chicken manure always has high moisture content. Before making them into fertilizer, it's very necessary to reduce the moisture content. If you have a small scale factory of making chicken manure fertilizer pellets, you can choose our small drying machine. It can dry 1-5 tons of chicken manure per hour, the power consumption is 7.5 kw/h. Unlike the solid-liquid separator machine reducing the manure moisture content to about 30%, it can dry chicken manure to a very low moisture content at one time. You can make the dried chicken dung into pellets directly by using dry fertilizer granulating machine. With it, the process of your small chicken litter fertilizer plant will be more simple, which can save you a lot of money.
How to dry chiken manure with sx rotary drum dryer?
Medium size compound fertilizer dryer(5-12t/h)
For 5-12t/h complex fertilizer production line, we have medium capacity drying machine can work for you. It's can dry the final compound fertilizer granules. Our customers always use them for limestone, sulphur or npk fertilizer plants. With high working efficiency, it can bring the pellets better hardness, prevent the compound balls from caking. The fertility can be more stable.
Large capacity machine for 14-18t/h fertilizer plants
We also have large size fertilizer dryer with capacity of 14-18t/h. Excellent working ability makes it only costs 45 kw power per hour. Moreover, our large drying machine is almost suitable for all kinds of fertilizer plants. Using high performance parts and metallic materials, it has stable structure and the revolutionary design prolongs its working life greatly.
Main technical parameters of SX fertilizer drying machine
We designed 9 models of fertilizer dryer. You may find the ideal one from them. We can also customize for you according to your requirements. Just contact us and get the free inquiry.
| Model | Motor Power (kw) | Reducer Model | Temp of Inlet (℃) | Angle of Installation (°) | Speed (r/min) | Capacity (t/h) |
| --- | --- | --- | --- | --- | --- | --- |
| SXHG-0808 | 5.5 | ZQ250 | ≥300 | 3-5 | 6 | 1-2 |
| SXHG-1010 | 7.5 | ZQ350 | ≥300 | 3-5 | 6 | 2-4 |
| SXHG-1212 | 7.5 | ZQ350 | ≥300 | 3-5 | 6 | 3-5 |
| SXHG-1515 | 11 | ZQ400 | ≥300 | 3-5 | 6 | 4-6 |
| SXHG-1616 | 15 | ZQ400 | ≥300 | 3-5 | 6 | 6-8 |
| SXHG-1818 | 22 | ZQ500 | ≥300 | 3-5 | 6 | 7-12 |
| SXHG-2020 | 37 | ZQ500 | ≥300 | 3-5 | 5.8 | 8-15 |
| SXHG-2222 | 37 | ZQ500 | ≥300 | 3-5 | 5.5 | 8-16 |
| SXHG-2424 | 45 | ZQ650 | ≥300 | 3-5 | 5.2 | 14-18 |