Powder granulator machine refers to these granulators which can make powder fertilizer into granules. Granular fertilizer has much more benefits than powder fertilizer, such as more steady fertilizer efficiency. To make power fertilizer into granular fertilizer, you can choose to rotate or extrude them. As an experienced fertilizer machine supplier, we can provide you quality powder granulator to help you make fertilizer granules. Next, you may find the desired granulating machine from the following part. 
Reasons for making powder fertilizer into granules.
It's very easy to know that powdery matter is very easy to fly apart. Of course the powder fertilizer in not exceptional. That causing troubles in loading and unloading during transportation. When fertilizing, the powder fertilizer is easy to fly away with the airflow. That not only is harmful to workers' health, but also will cause air pollution. Otherwise, the particle size of the powder is below 0.1mm. They are very easy to absorb moisture and bond together, that will reduce you a lot of profits. By contrast, the benefits of granulating powder fertilizer into pellets are very obvious.
Because of the mixing, granulating, balling, and densification during granulation, the powder fertilizer will be fertilizer balls with the hardness of 15-20N, the particle sizes of them are between 0.1mm and 20mm. They are much easier to transport and store than powder fertilizer. Furthermore, with fine hardness, the fertilizer pellets have more compact structure. Not easy to be broken greatly reduces the possibility of air pollution. Moreover, powder fertilizer has very little weight and small size. They are easy to stick on the leaves or roots of the plant, and dissolve rapidly, causing damage to the growth of plants. But after pelleting with powder granulator machine, the final granules can attach to the soil precisely and dissolve at more suitable speed than powder fertilizer. The nutrition of fertilizer can be used efficiently.
How to convert organic fertilizer powder form into pellet form?
There are two main methods to convert organic fertilizer powder form into pellet form: powder fertilizer granulating method with rotating, and extrusion granulation method. In ShunXin, we have 5 hot-selling powder granulator machines adopts the above two methods. Next, you will get more information of them.
Powder fertilizer granulating process with rotating
As its name mentioned, fertilizer pellets made with this method mainly by the rotating of granulating parts. When granulating, the powder fertilizer with moisture in 20%-40% will be fed in the granulators. Then they would rolling to balls with the high speed rotating of granulating parts. Because of the suitable moisture of powder raw material, they can bond together quickly. That will greatly improve the efficiency of granulation, bring you more economic profits. ShunXin, a professional fertilizer equipment manufacturer, we design three high-performance granulating machines adopt powder fertilizer method with rotating: drum granulating machine for pelleting powder fertilizer, two-in-one powder granulator machine, disk pelleting machine used in granulating powder fertilizer.
1. Drum granulating machine for pelleting powder fertilizer
The main part of drum granulator is a large horizontal drum with open-ended. When granulating, the drum rotating with an adjustable speed. Inside the drum, powder fertilizer rolling and balling with the inertia of drum. If you want to adjust the size of granules, you just need to adjust the speed of rotor.
As for capacity, our rotating drum powder fertilizer granulator can granulate 30 tons fertilizer per hour at most. It's very appropriate for large scale powder fertilizer granulating industry. The special open design of its ends we made can perfectly meet your need of continuous granulating: feeding and granulating can carry out at the same time. That will greatly shorten the time of granulating, and improve efficiency.
2. Two-in-one powder granulator machine
This kind of granulator is the combination of drum granulator and stirring tooth granulating machine. When granulating, like rotary drum powder fertilizer granulator machine, its drum rotating steadily. Inside the drum, there are many stirring teeth rotating with the drum simultaneously. Its capacity is smaller than drum granulator and is more suitable for medium scale powder fertilizer granulating plant. Because of the special granulating way it uses, the granules are rounder and more beautiful. Besides this, its efficiency is much higher, the granulating rate even can reach to 98%. Choosing this powder granulator machine for your medium scale fertilizer granulating plant is a really wise decision.
3. Disk pelleting machine used in granulating powder fertilizer
Unlike the above granulators, the rotating part of this granulating machine is an open pelleting disc. Powder fertilizer were fed into the disk and rolling to balls with the rotating of the disc. It can granulate fertilizer balls with different diameter in 2-6mm. For making different particle balls, you just need to adjust the speed of rotation axis.
Its most difference with the above two granulators is that you can observe the granulation process intuitively. For example, you find that the moisture content of powder fertilizer is losing and they are too dry to granulating, then you can use our equipped spray system, this system can spray water to the fertilizer evenly, that makes granulating more efficiently. And its granulating is more than 93%. Most importantly, we designed 12 models of this granulator, no matter which scale your plant is, you can choose the well-matched pan powder granulator machine.
Extrusion granulation process
It is a technique in which the solid materials are aggregated together by the pressure applying from dry granulation equipment. We have two types of powder granulator machine adopts this method: double roller powder granulating machine and flat die granulator for granulating powder fertilizer. These two kinds of granulating equipment are suitable for granulating powder fertilizer with moisture content below 10%. Fertilizer granules produced by these granulators have compact structure, and you have many choices of granule shapes. The following part is some details of these granulators.
The granulating part of this granulator is two extrusion rollers for powder to granulation. When granulating, dry powder materials are added from the feed port. Under the action of great extrusion pressure on the rollers, the powder fertilizer will be produced into predetermined shapes. And the The extrusion pressure can be adjusted by the pressure of hydraulic cylinder according to the need of granulation. By this way, you can get granules with ideal size. Considering that your requirements of pellets shapes, we can make 7 kinds of roller sheet with different ball socket. You can choose anyone of them: pillow shape, semicircle shape, stick shape, pill shape, walnut shape, flat ball shape and square bar shape.
Although flat die granulator uses the same granulation method, there are some differences between them. At first, when flat die powder granulator machine working, the press roller rotating with the spindle. And they can drive the material between the roller and die to rotate due to extrusion friction. In this way, the material is extruded by friction and forms pellets in the die hole. Another difference is that the shape of fertilizer granules produced by flat die powder pelleting equipment is columnar. As for the diameter, you can choose from 3-8mm.
The most benefit of these two kinds of fertilizer granulating equipment is that they don't need to be dried and cooled after granulating. That will save you a lot of time and power, bring you more economic profits.
Which powders can be granulated by our pelleting equipment?
Manure Powders for Organic Fertilizer Granulation
These powder granulator machines basically can be used for granulating all kinds of common powder fertilizer materials. No matter you want to granulating organic fertilizer powder or compound fertilizer powder, they can always meet your requirements. For organic fertilizer powder granulation, almost all kinds of poultry manure, livestock waste, mushroom, sludge from sugar plant and animal waste powder can be granulated into fine organic fertilizer pellets. The organic content even can reach 100%.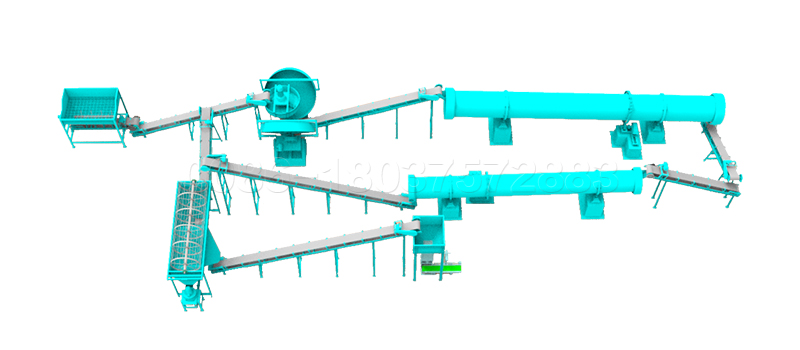 Chemical Powders in Compound Fertilizer Production
For granulating compound powder fertilizer, these powder granulating machines can be used for the pelleting of silica, sulphur, lime, charcoal, chlorine, and so on. These materials have low bonding degree, the granules are very hard to be granulated, or the pellets are very easy to be broken. To solve this problem, we used advanced technology to improve granulators' adaptive capacity to different fertilizer materials. As a result, the above compound fertilizer powder granulated by our machine have more compact structure and easier to store. So choosing our powder granulator machine for your compound fertilizer powder will make your fertilizer plant more competitive.
High-quality parts bring you high performance equipment
To produce high performance powder granulator machine, our professional design team looked at many traditional granulators, then we find that they have the same problem: the granulating parts, no matter the roller sheets or drums, are easy to be broken because of the continuous granulating. As a professional fertilizer granulator manufacturer with more than 15 years' experience in the industry, we are always dedicated ourselves in the research and developments of every components of our machines design. Every part we use, and every design and technology we adopted enriched/filled with workmanship of our engineers, manufacturing teams. All these efforts bring customers a quality, efficient, high performance, and easy maintenance granulator with long term working service life.
In the granulator's drive disk assemble, we use high hardness stainless steel to ensure the roller sheets can run stably. As for the roller sheets we use titanium, chrome and steel alloy. Compared to traditional ones, they can granulate more efficiently and steadily. Even your raw material has high hardness, or causticity, the roller sheets with high compatibility can granulate them efficiently. What's more, the granulator with this kind of roller sheet has great adaptive capacity to high temperature and high pressure. In the manufacturing materials, by using high quality alloy materials, the crack resistance and abrasive resistance of the roll surface have been greatly improved. These materials and structural design we used can eliminate the axial force of roller surface, making the equipment work more stable. Meanwhile, its servicing life are twice longer than traditional ones.