With the rapid development of livestock and poultry industry, many animal wastes are produced. These manures can't be used for the growth of plant directly because of some harmful bacteria or injurious ingredient. After a long-time effect, people invented many kinds of equipment for organic fertilizer production, the most important machine of them is the granulator.
The organic fertilizer pellet machine can turn organic fertilizer materials into balls, that will improve the utilization rate of organic waste raw materials, it plays a very important role in organic fertilizer manufacturing plant. Next you will get more information of organic fertilizer granulators.
How to convert powder form fertilizers into pellets by using organic fertilizer granulator?
Dry granulation equipment concludes double roller extrusion granulator and flat die granulator. Both of them turn organic fertilizer dry powder into granules with different shapes by extruding. The fertilizer raw material moisture content is pre-treated to less than 10%, and then they are fed into the machine and granulated by the roller sheets or mold. Organic fertilizer granules produced by this way have fine hardness to simplify the transportation and storage.
Top5 popular sale organic fertilizer granules manufacturing machine in ShunXin.
Combined organic and npk fertilizer granulators
Organic fertilizer and npk fertilizer are two kinds of excellent fertilizer for plants. They have their own characteristics. But have you ever thought how to get more profit from them? To help you make more profits, we design combined organic and npk fertilizer granulators: rotating drum granulator, new type organic and npk fertilizer granulator and two-in-one type granulator. You can choose anyone of them according to your requirements. If you want a large capacity granulator, you can choose the rotating drum granulator. The new type granulator mainly produce organic and npk fertilizer pellets by the stirring of stirring tooth. And two-in-one granulating machine can make pellets by the rotating of stirring teeth and drum at the same time, its capacity is larger than other two granulators and the consumption of power is lower.
Organic fertilizer disc type granulator machine
Disk granulator mainly produce fertilizer pellets in a granulating disc. The organic fertilizer raw materials are fed into the disk, with the rotation of the disc, the fertilizer material rolling in it and turn to pellets. When the diameter of fertilizer balls reach to predetermined numeric value, the pellets will be poured out of the disc and conveyed to next process. This kind of granulator is almost suitable for granulating all kinds of organic fertilizer materials. And the purity of organic fertilizer can reach 100%. It's really a perfect granulator for organic fertilizer.
Organic fertilizer flat die granulation machine
This type of granulator produced by ShunXin adapts dry granulation method. Like double roller extrusion granulator, it makes powder organic fertilizer into pellets by the extrusion of rollers and molds. The pellets are columnar with a diameter of 2-8mm and can be stored in water for a long time, that will prevent loss of fertilizer during fertilization in some rainy areas. The capacity of flat die granulator is 1-2.5t/h. So it's widely used in small scale organic fertilizer making plant.
Organic fertilizer granule polishing machine
In order to help you make the fertilizer granules more round and beautiful, we design organic fertilizer granule polishing machine. It has beautiful appearance, the simple structure and small volume, and easy to maintain. As an auxiliary equipment used in organic fertilizer making line, it can also be connected with granulator. When the organic fertilizer was granulated, the balls will be polished by this machine with more beautiful appearance.
Custom organic fertilizer pellet machine
The above are our top-selling machines and if you have special requirements, we can provide you custom service. We can custom different models of the above equipment according to your requirements, such as capacity, power, size of machine, the shape and size of granulating molds, even the color of them. Or if you have organic fertilizer raw materials but don't know how to choose the pelleting machine, we can also recommend the most suitable granulator for you.
Revolutionary innovations we make in our organic fertilizer granualtors.
In recent years, we have done a lot of business with overseas customers. We collect many opinions and suggestions from different customers. To make our granulators higher-performance, we make many revolutionary innovations.
1. Lining wall inside the drum
The drum granulator we designed in the past with the traditional scraper device on the inner wall of the drum. When the equipment is granulating, there always are many materials stuck on the inner wall of the drum. Although the scraper device can scrape them down, the inner wall always will be destroyed by the sharp scraper device. To solve this problem, we use a special rubber lining or acid-proof stainless steel lining inside the drum. As a result, the drum granulator can remove scar and stuck fertilizer on the inner wall of the drum automatically. Efficiently reduce the paste and corrosion of drum inner wall by fertilizer. It also saves the labor needed to clean it up.
2. Spray system
As mentioned above, pan granulator make pellets in the open disc. So the water may lose when granulating, resulting in the reduction of raw material moisture content. So we equip this kind of granulator with spray system. It can greatly control the fertilizer material moisture content and improve the granulating rate. Otherwise, we also design a rain cover for protecting the materials from raining. That makes it possible to granulate outdoor and ignore the weather.
What makes ShunXin an excellent organic fertilizer granulator manufacturer?
ShunXin machinery founded in 2005. in terms of machine production, we have our own factory, our company has introduced internationally advanced refined processing equipment. In the factory, experienced workers devote to producing high quality fertilizer producing equipment. What's more, we have product designers and high quality talents. They devote to the innovative design of our machine and service for customers. All of our colleagues make ShunXin more and more competitive than our peers. And we focus more on improving the user experience than on the benefits, we always believe that the trust and recognition are more important than anything else. Furthermore, the fifteen years business qualification bring us a very good reputation. Many regular customers choose us as their long-term cooperative partner. For these reasons, we stand out among the rest manufacturers and have a lot of loyal customers.
Except for granulating machines, Shunxin can also provide you complete organic fertilizer production lines.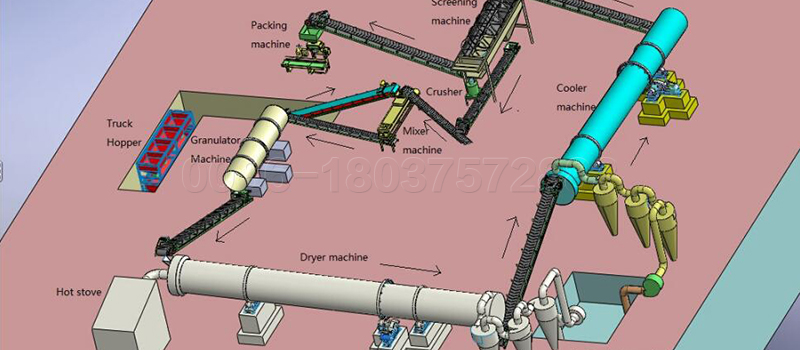 Except for granulators, a complete organic fertilizer production line concludes crushing machine, mixer machine, composting equipment, screening machine, conveying equipment, and many other relevant equipment. For your start-up granulation project, we can recommend the most suitable machines for your organic fertilizer production line. It should be noticed that there are different kinds of organic fertilizer making plan for different raw materials and scales. What's more, according to your budget, the choice of organic fertilizer production line is also different. Another point is, choosing reasonable fertilizer making plan and equipment allows you to get the most profit for the least amount of money.
In a word, no matter what you want is just a organic fertilizer pellet machine or a complete organic fertilizer production line, we can give you a very pertinent suggestion. So contact us, and begin your granulating plan of organic fertilizer as soon as possible.