SX wheel type compost turner is suitable for making large scale poultry manure composting fertilizer. It's also our best-selling large composting equipment. So why it has good reputation in composting machines? The following may be the reasons: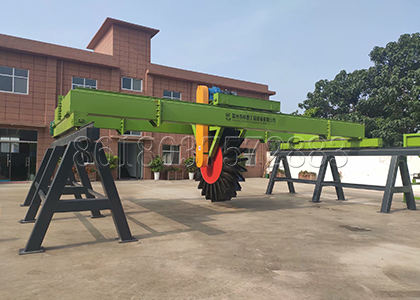 1.Excellent capacity:
Our wheel type compost turner is designed for large quantity poultry manure composting. It's smallest composting width is 1.5m, the turning width is 8-30m. With it, you can get quality composting fertilizer easily, which can greatly improve the efficiency of your organic fertilizer factory.
2.Low energy consumption
To improve the efficiency of wheel compost turner, we choose SKF bearing pedestal–the best bearing pedestal in the world. Even though the wheel with several tons, a man can toggle it easily. That's really an excellent way to reduce the energy consumption.
3.High automatic degree
We equipped PLC electric control cabinet for the composting machine. When working, it can be totally automated, you cost of ablor can be reduced very well. Because of the high speed running composting wheel, the fertilizer materials will be lifted. So you just need to build a deep groove with fertilizer conveying equipment beside the composting groove, the lifted composted fertilizer materials can move to next organic fertilizer making process.
4.Stable structure
We use 10mm thick square steel tube for the load-bearing bracket. That brings the machine more stable structure and longer service life than the traditional composting machine.